OVERVIEW OF TOUR 5 DAYS TO DISCOVERY SOUTH MOROCCAN
Embark on a 5 days adventure starting from Ouarzazate and traveling through Skoura, Dades, and Thinghir to reach Todra Gorge on Day 1. Day 2 takes you from Todra Gorge to Merzouga, where you'll experience the stunning dunes of Erg Chebbi. On Day 3, witness the sunrise in the dunes of Merzouga and continue your journey through Taous, Ouzina, Tafraoute, and Tamsahalte. Day 4 leads you from Tamsahalte to Chegaga, passing through Zagora, Mhamid, and the Draa Valley. Finally, on Day 5, make your way back to Ouarzazate via Lac Iriqui, Foum Zguit, Tazenakhte, and the Anti Atlas mountains.
ITENERARY OF TOUR 5 DAYS TO DISCOVERY SOUTH MOROCCAN
DAY 1 :

Ouarzazate > Skoura > Dades > Thinghir > Todra Gorge.
Depart in the morning to road miles casbahs and palm SKOURA with its picturesque landscape. A Skoura we visit the Kasbah of Amridhyle to Kallaa we take a track that crosses the Valley of Roses Boutaghrar able to meet nomads living in caves before joining Gorge and Dades Valley; lunch there . Afternoon road to Tinghir by Boumalene to the Todra Gorge. Night in half in a hotel in the gorge.
DAY 2 : Todra Gorge > Tinejdad > Erfoud > Merzouga  
Early departure for a ride of one hour walk along the palm of Todra before taking the road to Erfoud Tinejdad and for a stop at Marble fossils in the center of Erfoud. Afternoon trail to the impressive dunes of Merzouga (Erg Chebbi). 4×4 changes against the camel for the sunset and spend the night under the Berber tent in the dunes.
DAY 3 : Merzouga > Taous > Ouzina > Tafraout > Tazarine > Tamsahalte
Wake up early to witness sunrise in the dunes; Tauz to start and stop at villages of the blacks (Khamlia) for music Gnawas before reaching Taous and take the track of the Paris Dakar in extending the Algerian border, arrive the dunes of Ouzina; Ramlia and Tafraoute for lunch. Continuation towards the runway on to Foum Jran crossing desert plateau, and Hamada, oases and nomads Tazarine and then Tamsahalte. Night on half board at Riad.
DAY 4 : Tamsahalt > Zagora > Mhamid > Chegaga.
After breakfast departure to the beautiful valley of the Draa and its procession of palms and the city's southern Zagora at 52 days of camel Timbuktu. Tamegroute and there is a stop for a tour of the Koranic library and the village underground. Continue by the valley of the Draa and Tagounite until the last Mhamid Saharan village to join the track that leads to the dunes of Chegaga on through Oasis Umm Laàlag sacred. Dinner and overnight in tents in the form of nomadic bivouac.
DAY 5 : Chegaga > Lac Iriqui > Foum Zguit > Tazenakhte > Ouarzazate.
Departure from the track great Oued sanded and Lake Iriqui Foum up Zguit. Asphalt road and Taznakhte to Ouarzazate via the mountains of Anti Atlas Dîner and night under nomad tents in the bivouacs.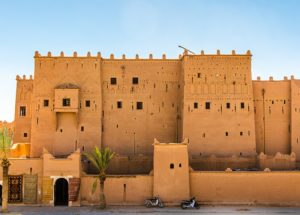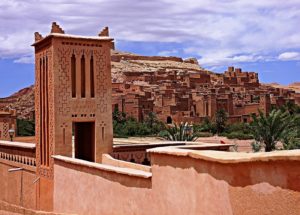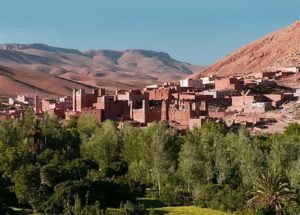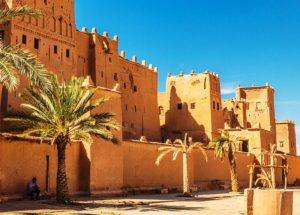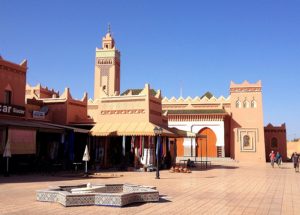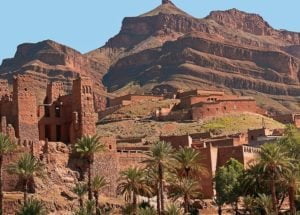 Map of itinerary :


Request a quote (reply as soon as possible)